Mission 500 Your Security Space Membership Drive Fundraiser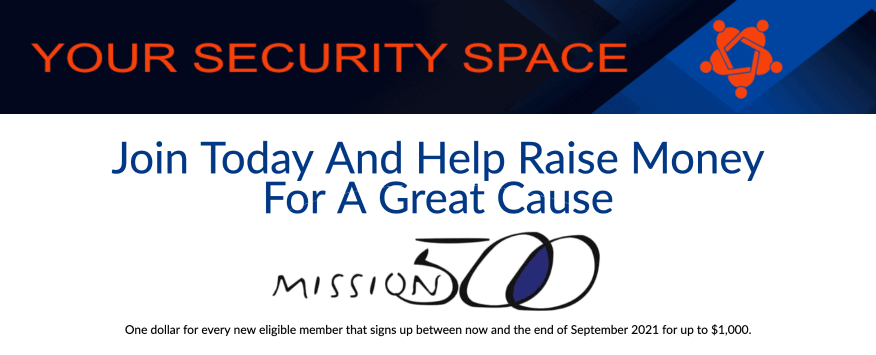 Mission 500 Your Security Space Membership Drive Fundraiser
Your Security Space is pleased to announce a new membership drive that will benefit Mission 500, a nonprofit organization that works closely with the security industry to serve the needs of children and communities in crisis in the United States.
Your Security Space is the networking platform for security professionals, by security professionals. It's the place where members can interact and discuss industry issues without the distractions found on other social networking sites. Your Security Space was created to help members achieve their goals of making the world a safer place and is free to join.
For every new Your Security Space membership* through September 30, 2021, we will donate $1.00 (up to $1,000) The impact of the pandemic has been hard on many, so if you haven't joined Your Security Space yet, please do it today, and help someone in need.
Already joined? We've got you covered – our donation will include $250 made in recognition of our 250 founding members.
This offer ends September 30, 2021. Join Your Security Space today and make a difference in the lives of children and their communities.
I hope this email finds that you are healthy and enjoying your summer. I look forward to seeing you on Your Security Space.
Sincerely,
Bernard D. Gollotti, CPP, Founder Your Security Space
bgollotti@yoursecurityspace.com
*A new membership is considered any individual who is, by trade, security professionals, law enforcement officials, have served in the armed forces, or have security responsibilities within their portfolio.